Our exclusive wedding packages, make it easier for you to focus on celebrating your momentous day while we take care of the details. Customize your package to accommodate larger groups, plus enhance your wedding with optional extras.
Wedding in Paradise package
$1,995 for the bride, groom, and up to 10 guests. Customized pricing is available for larger groups and package add ons.
Explore more options with Nila Destinations, our wedding planner partner. Exclusive Wedding Promotions. Book five or more rooms for travel between May and mid-December and receive a discount depending on length of stay. For eligible wedding groups we offer a complimentary 3-night honeymoon for the bride and groom!
We specialize in weddings from May through mid-December. Please note all weddings are booked through 3rd party planners.
Photographer and videographer
Welcome cocktail party / rehearsal dinner / reception
Customized wedding cake
Private beachfront dining (2–12 people)
Upgraded bridal bouquet and additional flowers
Beach barbeque
Bonfire
Calypso / steel drum / live reggae band or DJ
Catamaran wedding cruise
Hairstyling and make-up
Chartered sunset cruise aboard the 77-ft. Good Ship Atabeyra
Upgraded decorations including wedding arches, chuppas, lined aisle, tiki torches
Wedding & Rehearsal Venues
Whether it's before the big day or continuing the celebration with family and friends, we have a variety of unique event venues for you to choose from. Your Nila Destinations wedding planner will help you pick the right venue for your group and budget.
Opus offers a wonderful culinary experience.
Solana is a one-of-a-kind restaurant offering three distinct dining choices.
An island style barbecue right on the beach.
Complete with tropical cocktails and a customized island-style buffet.
We've made it so easy for family and friends to gather on your big day. With exclusive discounts and incentives you can celebrate together!
Book at least 5 rooms and stay 4 nights or more and receive.
Group discount off reservations of 4 or more nights (Some exclusions apply.)
$400 hotel credit for the bride and groom
Complimentary bottle of champagne for the bride and groom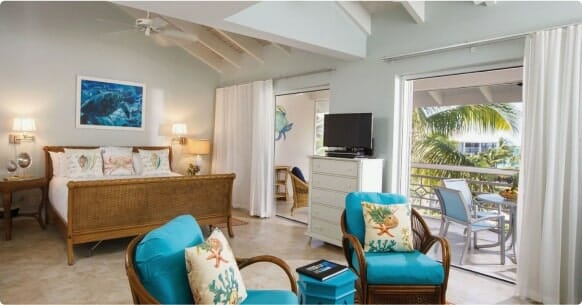 Group Savings with Honeymoon
Book at least 7 rooms and stay 5 nights or more and receive:
Three-night honeymoon in a Junior Suite for the bride and groom (includes tax/service fee)
Group discount off reservations of 4 or more nights (Some exclusions apply.)
Complimentary bottle of champagne for the bride and groom
Terms & Conditions. Reservations must be booked through Ocean Club Resorts U.S. Reservations Office to receive discounts and incentives. The $400 credit is not combinable with the 3-night honeymoon. The 3-night honeymoon must be for the same time period and for consecutive dates. Discount on 4-night stays excludes the studio category at Ocean Club West.
No matter what your interests are, we have an experience for you at our resorts. From adventure-seeking to professional relaxing, we have something for everyone at our two seaside resorts.
Grand style and simple elegance in perfect harmony.
At Ocean Club Resorts, say "I do" in one of the most idyllic settings in the world.
Wedded bliss in the tropics starts here