If the breathtaking Turks and Caicos Islands are on your travel wishlist, you've found just the place to get all your questions answered. We are here to dive into the top 10 questions that curious travelers frequently ask about Turks and Caicos. In addition to that, we will also highlight why Ocean Club Resorts is the ultimate choice for your vacation in Turks and Caicos. This resort offers a unique and memorable experience that stands out in this tropical haven. So, get ready to explore and discover why Turks and Caicos, with the added charm of Ocean Club Resorts, should be your next holiday destination.
1. What Makes Turks and Caicos Unique?
Turks and Caicos isn't just your average beach destination; it's the hidden gem of the Carribean. With pristine beaches, crystal-clear waters, and an abundance of marine life, it's a haven for both relaxation and adventure. The beautiful coral reefs that surround the island are a natural wave breaker providing calmer ocean waters. This island is also less crowded and busy with tourists making it the perfect spot to enjoy a relaxing vacation. Ocean Club Resorts, perfectly situated on the world-renowned Grace Bay Beach, provides an unparalleled experience with its luxurious amenities and top-notch services.
2. What Activities Can I Do in Turks and Caicos?
Turks and Caicos is bursting with activities for every type of traveler. From snorkeling and scuba diving in the stunning coral reefs to exploring the islands' rich history and culture, there's never a dull moment. At Ocean Club Resorts, you can take advantage of their exclusive excursions and on-site water sports, ensuring your stay is filled with excitement and fun.
3. What Makes Ocean Club Resorts Stand Out?
Ocean Club Resorts prides itself on offering a unique and intimate experience. With its beachfront location, spacious suites, and exceptional customer service, you're guaranteed a stay that's both comfortable and luxurious. Plus, with two resorts to choose from – Ocean Club East and Ocean Club West – you have the flexibility to pick the perfect spot for your Turks and Caicos adventure.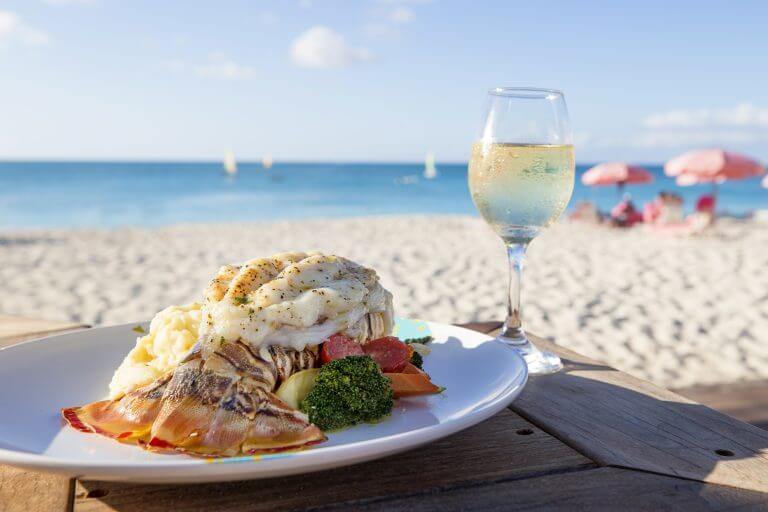 4. What's the Food Like in Turks and Caicos?
Turks and Caicos cuisine is a delightful blend of Caribbean flavors and fresh seafood. At Ocean Club Resorts, you can indulge in gourmet dining at their on-site restaurants, where the chefs use the freshest ingredients to create mouthwatering dishes. Don't forget to try the local specialty, conch, for a true taste of the islands!
5. Is Turks and Caicos Family-Friendly?
Absolutely! Turks and Caicos is perfect for travelers of all ages. Ocean Club Resorts offers family-friendly accommodations and activities, ensuring everyone has a fantastic time. From building sandcastles on the beach to exploring the underwater world, there are endless opportunities for family fun.
6. How's the Weather in Turks and Caicos?
Turks and Caicos enjoys warm, sunny weather year-round, making it a perfect destination no matter when you choose to visit. Ocean Club Resorts welcomes you with open arms, ensuring your stay is comfortable with their top-notch amenities and services, no matter the season.
7. Can I Have a Destination Wedding in Turks and Caicos?
Dreaming of a beach wedding? Turks and Caicos is a popular destination for couples looking to tie the knot in paradise. Ocean Club Resorts offers stunning wedding packages, providing everything you need for your special day, set against the breathtaking backdrop of Grace Bay Beach.
8. What's the Best Way to Get Around Turks and Caicos?
Exploring Turks and Caicos is easy, and Ocean Club Resorts is conveniently located near all the major attractions. You can rent a car, take a taxi, or even bike around the islands. The resort staff are more than happy to assist in arranging transportation, ensuring you make the most out of your Turks and Caicos experience.
9. When Is the Best Time of Year to Travel to Turks and Caicos?
You can't really go wrong when picking a time to visit Turks and Caicos—it's pretty much a a great destination all year round! The weather stays nice and mild most months, giving you those perfect beach days with plenty of sunshine and gentle breezes. Sure, it might get a bit hotter in the summer, but that's nothing a dip in the ocean can't fix. So, whether you're looking to escape the winter blues or planning a summer adventure, Turks and Caicos is always a good idea. Plus, Ocean Club Resorts are there to make sure you have an amazing time, no matter when you decide to visit!
10. How Do I Book My Stay at Ocean Club Resorts?
Ready to make your Turks and Caicos dreams come true? Booking your stay at Ocean Club Resorts is easy – simply visit their website, choose your preferred dates and accommodation, and get ready for an unforgettable tropical escape. Turks and Caicos are calling, and Ocean Club Resorts is ready to welcome you with open arms. So pack your bags, grab your sunglasses, and get ready for an adventure of a lifetime in this Caribbean paradise!
Make Turks and Caicos Your Next Vacation Destination!
Discover the ultimate paradise at Ocean Club Resorts in Turks and Caicos, where crystal-clear waters and endless sunshine await! Immerse yourself in luxury, enjoy breathtaking beachfront views, and indulge in a variety of thrilling activities, all while experiencing the warmth and hospitality of our world-class resort. Don't wait – book your dream vacation now and get ready to create unforgettable memories at Ocean Club Resorts, your perfect Caribbean getaway!